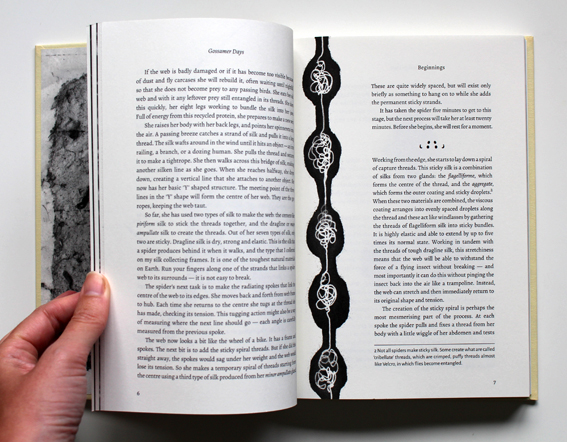 Gossamer Days: Spiders, humans and their threads
Strange Attractor press/MIT press (2016)
"A book that wonderfully unites history, science, art and anthropology"
The Guardian
"Exemplifies the rewarding crossovers between natural and cultural history, science and art, that seem not only possible but vital and necessary now."
Times Literary Supplement
"We don't just think; we think like humans. We don't just make; we make like people. There are photographs, sketches and images of artworks throughout, making this fascinating book a very beautiful one too."
Caught by the River
What happens when one making animal meets another? That's the question of
my illustrated book
on the human uses of spider silk, from gun sights to sticky tunics via acoustic lures, royal underwear and the mystery of the disappearing spider goats, I examine the strange, centuries long entanglement between humans and spiders. The book is available to buy in Europe and North America from
MIT press
or as a limited edition hardback from
Strange Attractor Press